Contact Lenses
Contact lenses offer many benefits, and can be a great way of enhancing your vision and confidence.
For many people they can, at times, provide better and more natural vision than spectacles and, for others, they can be a great advantage for social events or when playing sports where spectacles may get in the way or be impractical.
Contact lenses are a very safe method of optical correction as long as they are looked after carefully and with regular professional care.
New Patients
The prospect of putting a lens in your eye for the first time can be daunting. However, modern contact lenses are very comfortable and most people who wear lenses are hardly aware of the lens being in their eye. It is usually within minutes of insertion that the 'foreign body' feeling disappears. Also the very latest, thin lenses all but eliminate the need to build up "wearing time" gradually, enabling wearers to reach full wearing time almost immediately*.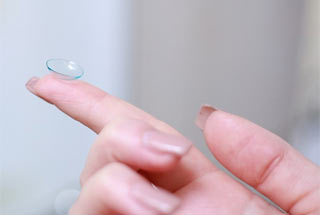 After careful selection and fitting of appropriate lenses, we will teach you how to insert and remove your lenses safely; how to care for lenses and how to wear them safely and we will ensure that you are confident doing this before leaving the practice. An ongoing programme of regular aftercare is provided.
Even if you have been less than successful in the past, recent developments mean we may be able to overcome some of the problems experienced previously, such as dry or uncomfortable eyes. Modern lens materials are much better at retaining moisture and the latest lens designs provide improved centration and stability of the lens in the eye. Silicon soft lenses are much more breathable and can often be worn safely for longer periods. We will supply you with the most appropriate lens for your eye health, comfort, vision and lifestyle.
We are a centre of excellence for Johnson & Johnson® products, and also supply lenses from other major lens manufacturers Alcon®, Coopervision® and Bausch and Lomb®. We can also provide lenses from smaller specialist boutique lens manufacturers, including: Cantor & Nissel, Northern Lenses, Markennovy and No7 Laboratory.
Disposable Lenses
In recent years, the biggest innovation by far has been the introduction of daily disposable contact lenses which means, amongst other things, you no longer need to maintain a miniature science laboratory in your bathroom! As the term suggests, daily disposable lenses are renewed daily. All that is required of you is to insert new lenses in the morning and then dispose of them in the evening. Daily disposable lenses also give you more freedom to pick and choose which days you wear contact lenses and which days you wear spectacles.
Disposable lenses are available in most prescriptions and, if you would like to try them, please talk with us about a no–obligation trial.
* Over–wearing of lenses can result in injury to the eye. Therefore we will provide you with the best guidance as to the length of time applicable to you, your circumstances and the lenses you will be using.
GET IN TOUCH:
If you would like to know more, or arrange an appointment please call us or visit the practice in Bishop's Waltham.
01489 896330 or email us HERE