Optical Coherence Tomography (OCT)
An OCT is particularly recommended for:
All patients initially so that a base-line of eye health can be established
Patients with a family history of glaucoma
Patients that have had a sudden change in their vision
The OCT scans the inside of the eye allowing examination of the 10 individual layers of the retina and also the optic nerve in 3 dimensions and is non-invasive and painless. Our existing Fundus camera just examines the surface of the retina.
There is an additional fee for the OCT examination but the benefits of such an examination are:
It is not intrusive, has no radiation issues and operates similarly to the other (Fundus) camera with which most are familiar
It allows us to better establish trends of changes to a patient's eye health more accurately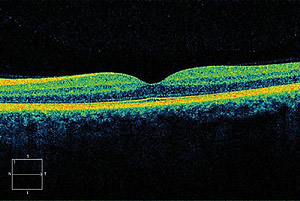 Normal Eye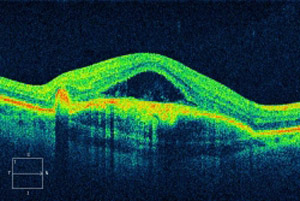 Showing Wet Macular Degeneration
Earlier identification of glaucoma
Earlier identification of problems with the optic nerve
Earlier detection of a variety of retinal diseases such as Macular hole; Macular pucker; Macular oedema; Age-related macular degeneration; Central serous retinopathy much earlier than would normally be the case
The OCT examination can be arranged at the same time as the normal eye examination or at a separate time and takes approximately 15 minutes.
If you have concerns about your eye health please book an OCT examination appointment.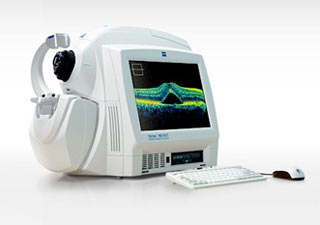 GET IN TOUCH:
If you would like to know more, or arrange an appointment please call us or visit the practice in Bishop's Waltham.
01489 896330 or email us HERE