Eye Examinations In Bishop's Waltham
What's involved in the eye examination?
Everyone's eyes are different so we tailor the eye examination to your individual circumstances.
Following an assessment of your previous history and discussion of your present situation and any symptoms, all aspects of the eye examination will be conducted by the optometrist and will usually include the following elements and tests to aid our professional assessment of your visual requirements.
Retinoscopy; Refraction; Ophthalmoscopy;
Digital Photography of the front and back of the eye
Optical coherence tomography(OCT); Electronic Visual Fields; Intra-ocular Pressure
In addition to the regular tests we also offer a Dry Eye clinic which is proving very successful.
Saxby's is well equipped with state–of–the–art technology so we are able to assess accurately any changes since your last test and pick up emerging medical conditions such as glaucoma, diabetes, high blood pressure and high cholesterol.
Many ocular conditions, such as glaucoma, do not give any symptoms until their later stages. Detection and referral to a hospital eye department at an early stage can help to prevent progression. Other common conditions, such as cataract and macular degeneration, can be monitored and managed appropriately.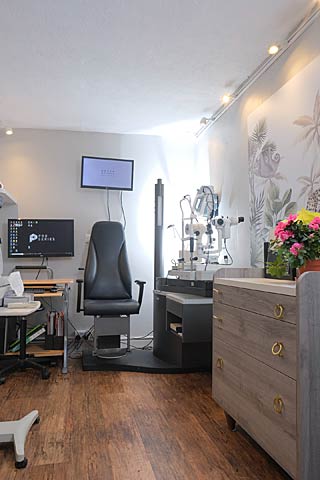 Following your eye examination the optometrist will give you an explanation of your vision and ocular health and a copy of your spectacle prescription. We will recommend when you should attend for your next examination. Details are entered on our secure computer database and a reminder letter/email/text will be sent when your next examination becomes due.
If there is a problem, you may be referred to your doctor or the Hospital for further investigation.
At Saxby's we have a Humphrey's visual field analyser machine which is the standard found in most hospital eye clinics. It not only allows us to detect signs of disease, but also to refine the diagnosis with further, more rigorous visual field testing programs if required. This is particularly so for monitoring glaucoma.
At Saxby's we give the most thorough eye exam possible to all of our patients. That is why we have invested in a digital equipment such as: slit lamp; fundus camera; OCT and visual fields machine. This allows us to take digital images of the front and the back of the eye and other more detailed data. These give us the means to accurately compare data from previous visits and observe possible trends.
GET IN TOUCH:
If you would like to know more, or arrange an appointment please call us or visit the practice in Bishop's Waltham.
01489 896330 or email us HERE